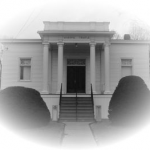 The oldest organization in Plainville, Frederick Lodge No. 14 AF&AM is located in the Masonic Temple at 70 East Main Street. The Grand Lodge of Massachusetts Bay chartered Frederick Lodge on October 3, 1787, as there was no Grand Lodge of Connecticut at that time. At least five of the men to whom our original charter was granted - William Judd, John Mix, Timothy Hosmer, Reuben Humphrey and John Hart - served in the Revolutionary Army. Some of their gravestones may still be seen in Farmington.
At that time, Frederick Lodge held its meetings Farmington. In 1860, the Lodge met at Cooke's Tavern located in Plainville, the former "Great Plain" in the old town of Farmington. The first members actually from Plainville were John Cooke and Calvin Lewis, neighbors in the White Oak District, who were made Masons on April 13, 1789.
Just as several towns (including Plainville) were carved out of the original Farmington area, so did Frederick Lodge become the source from which several daughter Lodges were erected. At Berlin in 1791, Harmony Lodge was chartered. Village Lodge, now in Canton (1794), Friendship Lodge in Southington and Franklin Lodge in Bristol (1819) were once affiliated with Frederick Lodge. In 2002, Franklin Lodge merged with Frederick Lodge to create Frederick Franklin Lodge No. 14.
This Lodge has seen a lot of American history in its more than 200 years, and its members have helped shape that history. The members of Frederick Franklin Lodge No. 14, like all Masonic Lodges, keep alive that spirit which formed this country and practice the tenets of Freemasonry - Friendship, Morality and Brotherly Love.