Welcome to Frederick Franklin No. 14!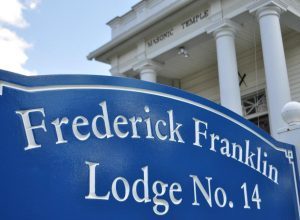 Frederick Franklin Lodge No.14 is a regular and recognized Masonic Lodge located in Plainville, CT. It is chartered through the Grand Lodge of Connecticut AF & AM, which is recognized by the United Grand Lodge of England.
Frederick Franklin Lodge has been a part of the Plainville community since its founding back in 1787, and since 2002 has been proud to be a part of the Bristol community as well. The lodge is a regular presence at the Bristol Mum Festival in late September and hosts a haunted house during the Plainville Pumpkinfest in late October. You may also recognize us from our incredible apple fritters!
We are not a religion. We are not a supper club. The goal of Freemasonry is to make good men better. We are a group of men that strive to better ourselves and our community, and we utilize symbols to teach the importance of leading a moral and upright life. In order to join us in our work, one must be a man, at least 18 years old, and a Connecticut resident for at least twelve months.
If you would like to learn more about us here in Plainville, we encourage you to come visit our beautiful lodge on East Main Street every second and fourth Tuesday (with the exceptions of July and August while we're on summer break) at 6:30pm for a sit-down meal. Both men and women are welcome to share a meal with us, and we'd be happy to answer any questions you may have.
If you prefer to reach out to us in a more immediate fashion, feel free to fill out the contact form on this page and one of our Brothers will reply to you as soon as possible. Thank you for your interest in Frederick Franklin Lodge No. 14!
Frederick Franklin Lodge is located at 70 E. Main St., Plainville, CT 06062