A Simple Country Lodge with Over 200 Years of Tradition and Pride!
As you may have guessed, we are a "Moon Lodge," that is, we meet Saturdays on or before the full moon. Occasionally we will have 2 meetings during a calendar month and other times we may not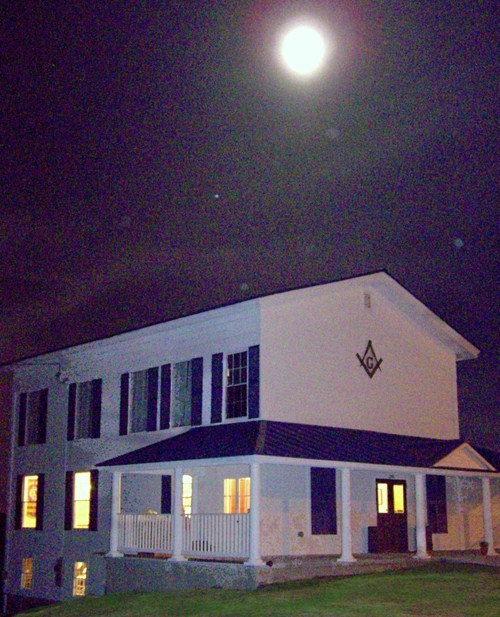 meet at all during a particular month. Doesn't it seem that it would be easy to forget when Lodge is? Well, actually it is not! All you have to do is look to the East and find the silhouette of the moon, it will tell you when it is time for Lodge.

Why a Moon Lodge you might ask? Tradition! It is said, and I choose to believe, that when our Brothers first set this schedule it was for purely practical reasons. As I stated earlier, we are nothing but a simple country Lodge, and as some might wrongly think, we did not yet have electricity in 1801 when our Lodge was founded.... What better way to light your path while traveling over hill and dale in Woodstock, Pomfret, Eastford, and dare I say, parts of Putnam than the glorious moonglow of our celestial dancing partner? We have indeed taken a liking to our ever vigilant beacon of light during these 200 years or so. Of course, to meet on Saturdays is the icing on the cake! We have no worries of getting home late and damming work the next day for want of sleep, and yet I can not deny a blurry eye come Sunday morning's invocation.

In our Bed & Breakfast communities, a Brother can come from near and far without the least worries as to lodging and relaxation. Many Brothers do come by, especially for our renowned Annual Communication; making a family getaway of it and staying in a local Bed & Breakfast, which may have as much history as our little Lodge, and then on to Antique shopping or taking in the pleasure of New England's wintery beauty. Thank you for stoping by our little digital home, feel free to browse around and if you see something that piques your interest drop us a note. We'd love to hear from you!
View an archive of our Weekly Master's Message and sign up here: