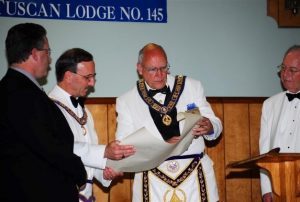 Friendship Tuscan Lodge No. 145 A.F. & A.M., Manchester, CT
After months of meetings by merger committees representing both lodges, in April 2007, members of both Tuscan Lodge No. 126 A.F & A.M. and Friendship Lodge No. 145 A.F. & A.M. voted to approve a merger with the new name being Friendship Tuscan Lodge No. 145, A.F. & A.M. The name was a compromise to preserve the original name and number of Friendship Lodge as well as pay tribute to the long history of Tuscan Lodge. Brother William L. Greene, MWGM of Masons in the State of Connecticut, presented the revised charter to WM John DiCioccio, Jr. AGM 6B during the annual awards night in June.
Even while merger discussions were underway, another committee was looking for an alternative meeting location that would fit better within our fiscal plan. At the stated communication on November 1st, the brothers voted to move to the building owned by the Orange Hall Corporation, and known commonly as "Orange Hall". This building is located just across the street at 72 East Center Street, Manchester. Our first meeting at the new location was January 3rd, 2008.
Historic decisions were made by our lodge membership in 2007. A hearty and warm felt THANK YOU goes out to WM John DiCioccio, Jr., his officers and appointed committees for their leadership and guidance during the year.
The first suite of officers for the new lodge was elected on December 6th. WM Jose C. Dias and his suite of officers consisting of brothers from both lodges, were installed on December 8th.
In March of 2009, the Brethren voted to move back to the Masonic Temple at 25 East Center Street, Manchester and we held our first meeting "back home" in May.
In January 2016, we completed the purchase of the former Lithuanian Hall located at 24 Golway St. in Manchester. Cleaning, painting, remodeling began almost immediately to customize the interior of this building for Masonic use. Thanks to generous donations, many sweat equity hours of the Brethren and our families – we held our first tiled Stated Communication on May 5th, 2016. We feel we are now better situated to prosper and grow in the coming years.
Tuscan Lodge No. 126 A.F. & A.M., Hartford, CT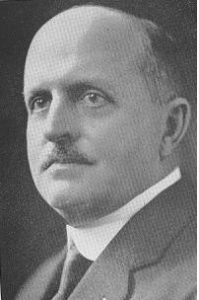 In the fall of 1918 and the spring of 1919 it became apparent that the existing local lodges of Hartford could not handle the great number of Masonic applications satisfactorily. Those interested in forming a new lodge felt that they should focus of masons resident in the City of Hartford who had not yet affiliated. With the consent of the three local lodges, Worship Brother Norman C. Stevens secured the signatures of 59 masons (representing 46 different lodges from 9 different states) during the early part of 1920 and filed a petition with the Grand Secretary on January 16th, 1920 requesting a charter for a lodge to be known as Tuscan No. 126. Homer B. Belfield, (pictured at right), a Past Commander of Washington Commandery was recommended to be the Worshipful Master. Tuscan Lodge No. 126 A.F. & A.M. was granted a charter by the Most Worshipful Grand Lodge of the State of Connecticut on February 5th, 1920 and was instituted by Most Worshipful Grand Master Charles C. Perkins and his associate grand officers on March 6th, 1920. The following officers were installed as the first officers of Tuscan Lodge:
Homer B. Belfield: Worshipful Master
Louis C. Kingbury: Senior Warden
T. Frank Cassidy: Junior Warden
Harold W. Hough: Treasurer
Norman C. Stevens: PM Secretary
Joseph G. Woodbury: Senior Deacon
Arthur W. Hurd: Junior Deacon
Arthur C. Mason: Senior Steward
G. Phillip LeCrenier, Jr.: Junior Steward
Henry B. Stickley: PM Chaplain
Reuben S. Brown: PM Marshal
Robert H. Prutting: Musical Director
George A. Loomis: PM Tiler
The name "Tuscan" is taken from one of the principal orders of architecture. It being the first and plainest order it was thought eminently fitting that this new lodge have that name as it was starting plain and simple with great hopes for the future.
At the end of their first year, Tuscan Lodge had 116 Charter Members.
Note: The above information was taken from "BY-LAWS of Tuscan Lodge, No. 126 A.F. & A.M Hartford, CT" dated 1955 and graciously provided by Albert J. Reid.
Friendship Lodge No. 145 A.F. & A.M., Manchester, CT
In 1964, after several earlier attempts to start a second lodge in Manchester had been unsuccessful, Brothers Ernest (Jack) Smith and John (Jack) Von Deck met to discuss yet another attempt to form a new lodge. Brother Von Deck met with the late Earl Haling, Past Grand Secretary and the late Frank Lindsey, Past Grand Master of the Grand Lodge of Connecticut. As a result of this meeting, initial approval of their plan was granted and Jack left with the necessary forms required to start a new lodge.
The next step was to fill the officer chairs for the new lodge. Eventually it was agreed that Bro. Jack Von Deck would be the Senior Warden, Bro. Jack Smith would be the Junior Warden and Bro. Harold Hubbard would become the Senior Deacon. According to Grand Lodge rules and regulations, the Master had to serve at least one year as Warden before he could become the Worshipful Master, so the search for a qualified candidate got underway. WB Christopher Totten, Past Master of Daskam Lodge No. 86 in Glastonbury was approached and agreed to become the Charter Master. The remaining officer's positions were quickly filled by other Charter Members.
By late spring in '64, Friendship Lodge was well organized and ready to become an official Masonic Lodge. Organizers met with the newly elected Grand Master MW Irving Partridge to apprise him of the status of the new lodge. Having 42 Charter Members, a complete suite of officers and adequate finances in place impressed the Grand Master.
The last hurdle to becoming a new lodge was the approval of Manchester Lodge No. 73. At a meeting in late June, Bros. Von Deck and Smith spoke on behalf of Friendship Lodge and a group of Past Masters from Manchester 73 spoke against the proposal. A vote was taken and Friendship Lodge's proposal was defeated.
Bros. Von Deck and Smith believed the effort to establish a new lodge in Manchester had once again been stymied. Unbeknownst to them, Grand Master Irving Partridge was unhappy with the outcome of the vote. In July he called representatives from both lodges to the Grand Lodge office on Ann St. in Hartford to inform them that he was overriding Manchester 73's vote and was granting a dispensation to Friendship Lodge.
The first official meeting of Friendship Lodge was held on Thursday, September 3, 1964 for the purpose of receiving a Grand Lodge Dispensation. Under Dispensation means that the Lodge is under a probationary period and had to prove to the Grand Lodge that they could operate efficiently. The Under Dispensation status lasted until June 3, 1965 when the Lodge was officially granted its Charter. The Lodge was granted concurrent territorial jurisdiction with Manchester Lodge No. 73 over the towns of Manchester and Bolton.
At the September 17th meeting, three petitions for degrees were read and Friendship Lodge was off and running. While Under Dispensation, three additional Brothers were raised to the Sublime Degree of Master Mason, bringing the overall Charter Member total to 48.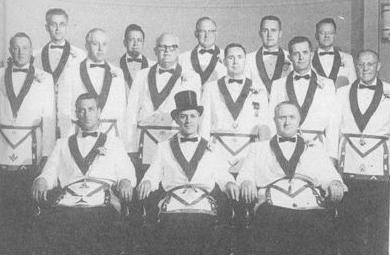 The following officers were installed as the first officers of Friendship Lodge:
Christopher W. Totten: Worshipful Master
John L. Von Deck, Jr.: Senior Warden
Ernest J, Smith: Junior Warden
Harold W. Lavanway: PM Treasurer
Emery C. Daly: Secretary
Harold V. Hubbard: Senior Deacon
Harold E. Turkington: Junior Deacon
Marshall E. Hodge: Senior Steward
Ronald Wadsworth: Junior Steward
George Strimaitis: Chaplain
Harold Leggett: Marshal
Frederick Griswold: Organist
Richard Stratton: Tiler
Chester M. Ferris: Historian
Note: This information was taken from "Twenty Five Years of Friendship 1965-1990" dated June 7-10, 1990 and authored by Donald W. Dean, PM, John L. Von Deck Jr., PM PDD and Anderson H. Zeidler Jr., SW