Considered the "Father of Philippine Masonry," Marcelo H. del Pilar was born on August 30, 1850 at barrio Kupang, San Nicolas, Bulacan, Philippines. He died on July 4, 1896 at Barcelona, Spain. He founded "Diariong Tagalog," first vernacular daily newspaper and used it in publicly denouncing the abuses and oppression of the authorities.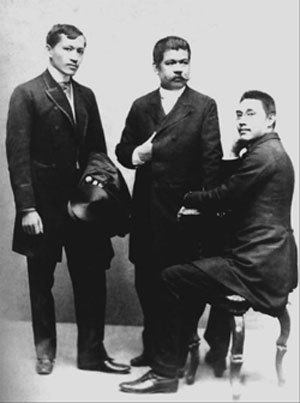 Rizal, Del Pilar and Ponce
A well-trained lawyer and writer, he left the Philippines because of government persecution. He carried his fight against the rulers in Madrid by editing "La Solidaridad."
He was made a Mason in Spain in 1889, one of the first Filipinos initiated into the mysteries of Masonry in Europe. He co-founded Logia Revoluccion in Barcelona and revived Logia Solidaridad 53 when it floundered into stormy seas where he became its Worshipful Master and with Jose Rizal as Orator. He was coroneted 33° by the Gran Oriente Espanol.
He spearheaded the secret organization of Masonic lodges in the Philippines as a means of strengthening the propaganda movement. Considered the greatest Filipino journalist of his time, and the "most intellectual leader and soul of the Philippine Revolution," he died a pauper, away from his family, a true patriot and martyr to his country. The Grand Lodge of the Philippines building in Manila and his hometown are named in his honor, adopting his pen name "Plaridel."