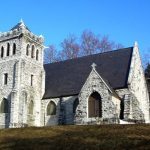 Welcome to St. Peter's:
The perfect place to host your next event!
Located just up the hill from the Town Green in New Milford, CT, St. Peter's is a stunning 19th-century Gothic church with a charm that has to be seen to be believed.
On the lower level, St. Peter's offers a Dining Area with a seating capacity of 100, a commercially licensed kitchen, two restrooms, and additional conveniences.
The upper level offers a 2000 square foot Great Hall in Gothic style with cathedral ceilings of oak beams and seven stained glass windows as well as a lounge area. (Click for details.)