A list of the official communications from the Worshipful Master of Frederick Franklin Lodge No. 14. An archive is listed below the most recent communication.
Worshipful Master Judemayer Medena
Brothers,


Welcome back to the fall semester. We have a lot of big activities and events coming up. Please look below for all the dates and events. I hope you will be able to make it to at least a few of the events. We're also looking for participants for the Pumpkin Festival, which is on October 22nd. We're going to need help with setting up and decorating the lodge on Friday October 21st. Along with the food prep for the apple fritters. Please use the sign up link below.

As some brothers may be aware, Brother Raul Tovar is moving back to Texas to be with his family, and Brother Patrick Kilby has set up a fight night at the lodge on October 29th - The fight night is going to be the last event that Brother Raul will be able to attend before moving back to Texas. I would like to have as many brothers attend to have fellowship with Brother Raul. (I think Brother Raul would really appreciate it.) Please see the flyer below for details.

I extend the condolences of all the brothers of Frederick Franklin Lodge to RWB Mark Parasiliti and family, on the passing of his mother. Your Brothers understand the void it creates and we are here for you and your family.

Fraternally,

Jude Medena

Worshipful Master
Brothers, please join me in welcoming Brother Anthony (Tony) Morrone, our newly initiated Entered Apprentice. Brother Tony will be making "wellness checks" as part of his "proficiency". Please extend your brotherly love and friendship when he calls.
Congratulations to Brother Andy Bronson, sitting in as Master for our inspection and Degree. Andy and all the officers presented an excellent degree.

The Worshipful Master acknowledges the brothers raised in September

George Golnik 69 Years
Henry Syphers 54 Years
Chet Russell 30 Years
Andrew Baxter 18 Years
Cristhian Astudillo 12 Years
Michael Michaud 12 Years
Brothers,
I want to share this thank you note we received from Amanda Cyr for the scholarship check she was awarded. You have a bright future ahead!
Jude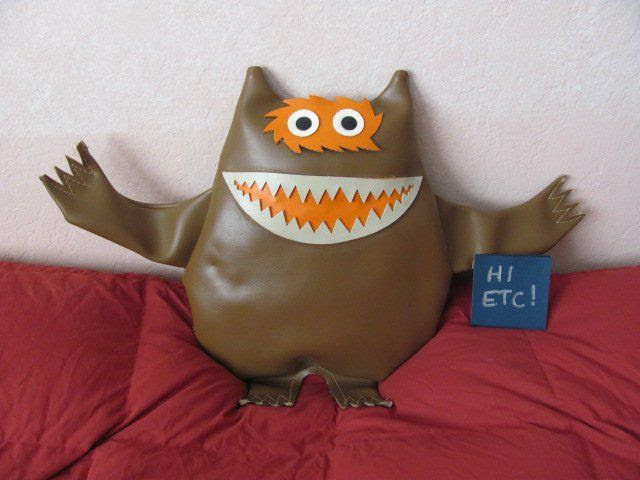 Brothers Dan Dabrowski and Ed Lorenson knew this was a "Nauga"

The Nauga, a colorful, horned, happy-looking creature native to the island of Sumatra, was once hunted to near-extinction. They were hunted for sport, but more often for their smooth and durable leather-like hide – Naugahyde, as it's generally known.

Ed Lorenson wrote::
Naugatuck rubber made a furniture covering called "Naugahyde " This was very popular and someone in the factory made this toy as a joke and it became very popular.
In fact one of my nieces lost hers and she now has ours which she has used it as a toy for her children


In case you haven't figured it out, the Nauga is a fictional creature. Naugahyde is a synthetic leather replacement, trademarked in 1936, while the Nauga was born of a late 1960s advertising campaign, according to Barbara Mikkelson writing for Snopes. The cutesy Nauga advertisements and cuddly Nauga dolls (now very collectible) were intended to soothe "customers' unfamiliarity with what might otherwise have been perceived as a distinctly synthetic (and thus at the time a slightly threatening) product," Mikkelson writes. Even Garfield creator Jim Davis got in on the joke in June 1981, when the coffee-loving cat demanded of his owner Jon "Do you know how many Naugas they killed to make this leash?"
While the Nauga is the first and best-known of the cryptozoological creatures who furnish synthetic textiles to the masses, it's far from the only one.

September Fellowship Breakfast
Too caught up with visiting and neglected to take a picture but want to acknowledge the brothers that attended -
Jay Bostwick, Wayne Adams, Fred Rosenbaum, Bill Calder, Chet Russell, Brian and Karen Beals, Charley Rowland, Collin Kempi

October 11th Business Meeting

October 22nd Pumpkin Festival Haunted House and Fritter booth
Sign up here

October 25th To Be Announced

October 29th PPV Fight Night at the lodge

Nov 8th Step Up night & FC Degree
Brother Dan Levine in the East and 3 brothers taking their second step in Masonry

Nov 5th Secretary's Seminar
8:30 am in the Hartog Auditorium at Ashlar Village.

Nov 22nd Table Lodge Reservations

Dec13th Program To Be Announced

Dec 17th MM Degree by Past Masters
10:30 am start, lunch break, 1 pm The Builders Lodge, and full form Tragedy for 4 brothers

Dec 27th Holiday Fellowship
---
February 2022
March 2022
April 2022
May 2022
June 2022
July 2022
August 2022
September 2022