A list of the official communications from the Worshipful Master of Frederick Franklin Lodge No. 14. An archive is listed below the most recent communication.
Worshipful Master Daniel Levine
January 2023
Happy New Year
Brothers,

To begin, let me say that it is an honor to be elected as your Worshipful Master for the ensuing year. As the New Year is about to begin, now is the perfect opportunity to reflect on the past twelve months individually, and Masonically.

I believe we were successful this year and have established a firm foundation for the upcoming Officers. The framework has been set, and the goals and expectation of 2023 is to expand on these fundamentals and continue focusing on the future.

My goal this year is to focus on Lodge Fundraising, Community Service, and Brother Outreach. I believe we can continue to rejuvenate the Lodge and prosper for years to come by focusing on these three important aspects. To be successful, however, committees will need to be filled and held accountable. Therefore, each stated communication will include a set time for committee members to speak to the craft with plans and updates. Remember, Brothers do not need to be present at the meetings to be a part of a committee. We currently have 112 members apart of our lodge, and I would like all Brothers to be actively involved, and provide ideas, expertise, and experience to the craft. We all have something to give, (time, money, technology skills, accounting, carpentry, etc.) but most importantly, brotherly support.

Fundraising is essential to any organization. Without the necessary funds, our physical Lodge will eventually falter. As we all know, costs are increasing for most everything, including maintenance of the Lodge. Regrettably, dues alone are not enough. Every Brother can help, even remotely, by joining or assisting committees, marketing, showing up to lend a hand during an event, or just providing feedback and ideas to expand our presence. We have been fortunate renting out our facility and have also been successful with our annual Fritter Booth during the Plainville Pumpkin Festival. However, we can and should be doing more than one reliable event each year.

Increasing our Community Service is a personal goal of mine. Like fundraising, we have our annual events to help our community, but I believe we can do more. For example, something as simple as picking up trash at a local park, driving those who can no longer get around on their own, or volunteering at the local soup kitchen or Masonic Care are just a few small gestures that mean the world to others. There are so many opportunities to improve ourselves, all while aiding the communities that allow us those opportunities.

Finally, our Lodge will not continue to exist without you, the Brothers. Unfortunately, I have not had the pleasure to speak or meet with many of you. I would like this to change. In 2022, four Brothers were raised to the sublime degree of Master Mason. I have tasked them to do a "wellness" check with every member. You will be contacted by at least one of these Brothers over the coming months. I want you all involved, and would thoroughly enjoy being able to learn more about your individual lives and masonic experiences. Additionally, this will allow us to provide you a direct communication line if aid or assistance from the lodge is needed.

With all this said, I am excited and have high hopes for the 2023 year. I invite every Brother to our Officer Installation Ceremony on January 7 th , at 7:00 PM (with dinner being served at 6:00 PM). I appreciate the support and may the new year bring you all peace, good health, and happiness.

Fraternally,
Daniel Levine
Worshipful Master Elect
January - June 2023 Trestleboard
Jan 3rd Installation Walk Thru & set up 6:30pm
Jan 7th Installation of Officers @ 7pm Dinner at 6 pm
Jan 10 Discussion of First Semester Plans and committees
Jan 24 Stated Communication - Committee Confirmations
Jan 29 Officers Meeting, 11AM Lodge Room
Feb 14 Stated Communication 6PM (Program)
Valentine's Day Dinner with significant others
Feb 21 EA Degree Rehearsal, 630PM
Feb 26 Officers Meeting and EA Degree Rehearsal, 1100AM
Feb 28 EA Degree
March 14 EA Degree (alternate or Stated)
March 17 Corned Beef Dinner, 6:30PM (public)
March 24 Wolf pack Game, 7PM
March 26 Officers Meeting, 11AM
March 28 Scottish & York Rite Presentation
April 6 Yard Goats Home Opener, 7PM
April 8 Easter Weekend Breakfast, 9AM Reservation Required
April 11 Stated Communication
April 18 FC Degree Rehearsal, 630 PM
April 23 Officers Meeting and FC Degree Rehearsal, 1100 AM
April 25 FC Degree
May 9 Stated Communication
May 21 Officers Meeting, 11AM
May 23 WWII Normandy Presentation
June 13 Stated & Flag Day Walk Thru
June 14 Flag Day Ceremony, 5:30
June 20 MM Degree Rehearsal, 6:30
June 23 MM Degree Rehearsal, 6 pm
June 24 MM Degree, 10AM
June 27 Summer Break & Game Night
Health & Wellness
WB Peter Walentukonis needs dialysis treatments 3 times a week and is looking for a few brothers he could turn to if needed for transportation from his home on Stafford Ave to Pine St for his dialysis treatments at 11:30 am. Peter has a ride home after treatment - it's just getting there.

Brothers if you can assist in any way please contact either myself or the lodge secretary.

The Worshipful Master congratulates the brothers raised in January

Daniel Bergeron 5 Yrs
Richard Corey 14 Yrs
Ian Jones 14 Yrs
Scott McCarthy 12 Yrs
Judemayer Medena 8 Yrs
Peter Quinn 55 Yrs
Lodge Polo Shirts
Over the summer we obtained a new embroiderer to create Lodge polo shirts. There was good feedback on the design and plenty of shirts were ordered. Since then we have had several new Master Masons in our Lodge so we are gearing up to put in another order for shirts. Below is a picture. The design is a sports/golf style polo with the Square and Compasses and the lodge name. This is the same design we selected in the summer. Each shirt is $32.00 and that includes the shirt and embroidery (as well as shipping if wanted). If you wish to have yours personalized with your name, there is an additional charge of $8.00.
We will be accepting orders until February 1st. To order, send your desired size, quantity, and name if you want it personalized to Dan at daniel.r.dabrowski@gmail.com
Please send your payment to the Secretary via check or use PayPal or Venmo.

10 Brothers enjoyed the monthly breakfast at Uncle Bob's on Dec 10th
Jay Bostwick, Wayne Adams, Collin Kempi, Bill Calder, Fred Rosenbaum, John Gladsyz, Brian Beals, Bruce Brightman, Chet Russell, and Mark Parasiliti (not pictured),,, enjoyed the Saturday Fellowship breakfast at Uncle Bob's.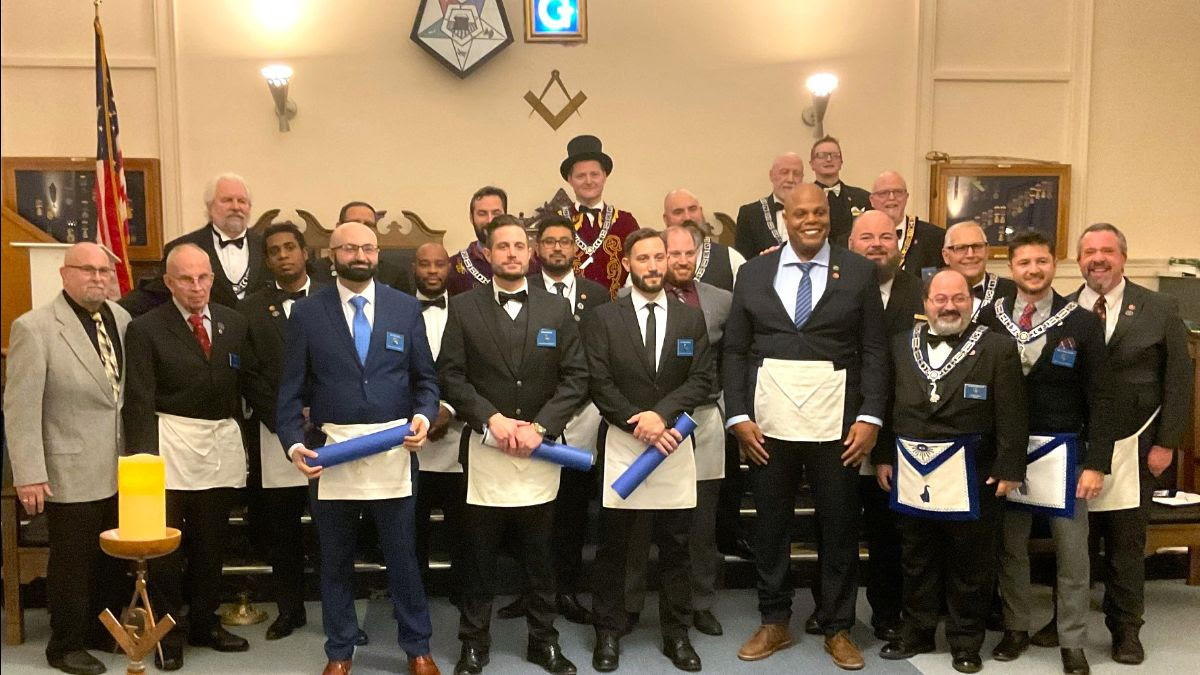 The MM degree was performed for four Brothers on Saturday, Dec. 17, by Past Masters..
Raised to the sublime degree of Master Mason were Bro. Bilal Chakas, Bro. Peter F. Morrone, and Bro. Tony Morrone of Frederick-Franklin, and visiting Bro. Terrence W. Williams of Annawon Lodge No. 115. The brothers were raised in short form. Following a hearty soup and sandwich luncheon, Upon return to Labor The new brothers witnessed, The Builders lodge, a detailed background of our first three Grand Masters followed by a full costumed Tragedy the lodge Ritual Cast,
As an added feature, the MM Second Section Lecture was given by WB Kyle J. Podpolucha, PM of Annawon Lodge and Bro. Edward Lawson, Jr., of both Annawon and Frederick-Franklin Lodges, for his rendition of the Canadian Charge.
A very special recognition to RWB G. Randall Hornaday who presided in the East for the entire degree, even stepping in as one half of the 1st Sec. Lecture at the last minute!

RWB Mark Parasiliti was the Degree Team Organizer, and gave everyone a degree which will be long remembered by all of its attendees and participants.